The EnviroScape® environmental education models show water pollution and prevention through shared responsibility. A series of portable models dramatically demonstrate water pollution concepts and their prevention. EnviroScape® effectively communicates our shared responsibility for the environment to people of all ages, languages and cultures. Our models are engaging and effective, as they create a real sense of understanding through experience and hands-on demonstration. EnviroScape® makes complex issues seem simple, helping people prevent water pollution in their own communities.
>> learn more about EnviroScape®
[br]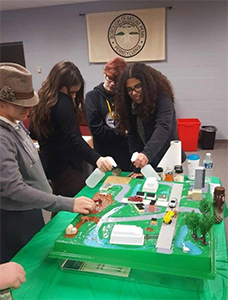 Mt. Penn Water Authority's Source Water Protection committee completed an EnviroScape storm water pollution demonstration for the Antietam Valley Girl Scout Troop #1653.
The demonstration showed how rain flows over our streets and carries pollutants such as trash, pet waste, and oil from leaking cars into our community's storm drains. Our community's storm drains flow into local waterways, such as Carsonia Lake, Antietam Creek, and the Schuykill River.
The girl scouts also completed storm water pollution drawings for the Schuykill Action Network's (SAN) Street Art contest.